Barnwood Living
See More about Barnwood Living >>>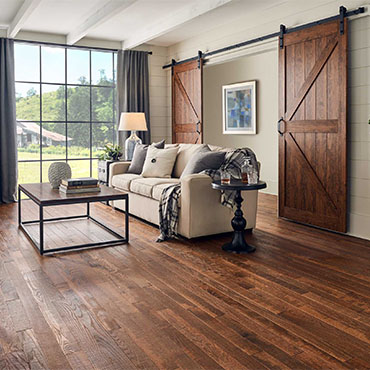 The Vintage Charm of a Barnwood Floor Designed for Today's Lifestyle
Exclusively designed and curated for Bruce by popular home improvement TV star, Mark Bowe of Barnwood Builders. His inspiration for the line comes from the timeworn character of reclaimed barnwood that he uses to build homes across the country.
Every Style Has a Story
Part of the appeal of reclaimed barnwood is that every piece represents a story and history of its origin, the Barnwood Living Collection is no exception.


Lincoln
Red Oak reminiscent of the foot worn floors from pioneer cabins that Mark Bowe has restored throughout Lincoln County West Virginia.


Randolph
Every floor in the Barnwood Living collection is crafted with care in Bruce's hardwood plant in Randolph County, West Virginia, whose name was given to this timeless chocolate brown hue – a favorite among the factory staff.


Monroe
In 1785, Mark Bowe's ancestors built the first log church in Monroe County, West Virginia and Mark honors that history with a design based on its floors.


Jefferson
The manufacturing heritage of Jefferson County in the West Virginia panhandle inspired this boldly textured industrial chic look.


Wyoming
In the coal fields of Wyoming County, West Virginia, there's an old company store whose floors have been trod on by the dusty boots of generations of miners, wearing it to the same rich patina as this style.


Mineral
A place where natural and industrial history live side by side, Mineral County, West Virginia lends its name to this ruggedly textured floor whose deep gray-brown color represents the interaction of metal and wood.


Hampshire
Warm taupe reminiscent of the refined floors from the barns Mark has taken down in Hampshire County, West Virginia, where he mills them down and makes them new again.


Brooke
Hints of antiqued gray over a soft brown bring to mind the stones and sediment at the bottom of the crystal clear streams found throughout West Virginia.


Summers
Mark created this color to evoke the warm tones and subtle texture of Summers County's Sandstone Falls, one of his favorite places in West Virginia.


Greenbrier
Mark created this soft parchment color over the refined grain of White Oak to evoke the fresh air and open spaces of the West Virginia county Greenbrier where he calls home.


The Versatility of Wood
These floors are not only for craftsmen like Mark, but also for homeowners who appreciate products that are authentic and familiar, that are handcrafted, and create a warm ambience and a unique feeling of 'home'.
Real Wood, Real Character, Real Value
The Barnwood Living™ collection by Mark Bowe from Bruce celebrate American Craftsmanship! Every floor in our collection is crafted with care in West Virginia. That's the story of real American hardwood.
---
NOTE:
City Carpet Outlet does not carry every style of product. Check with us first about a particular product or to see if your product choice is available for special order.
---

---
Bruce Hardwood Flooring
A trusted brand for over a century. Superior quality through exacting precision in the milling process and rigorous inspections featuring up to 75 quality checkpoints. A luxurious selection of design styles, colors, species, and specialty finishes.
---
Profile
|
Website
|
Design Tools
|
Warranty
|
Install